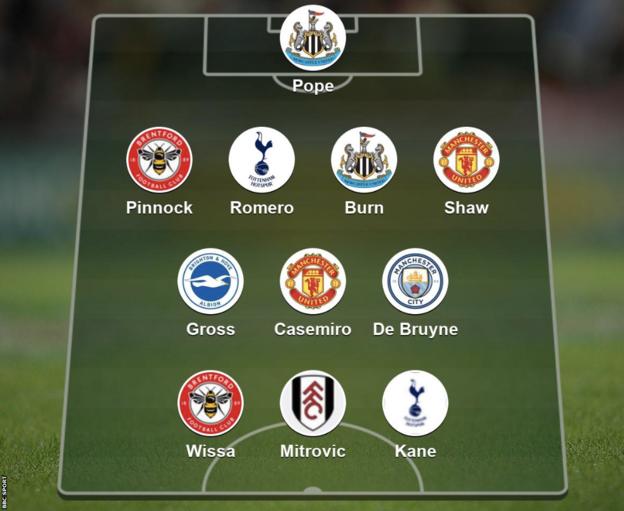 At the end of every Premier League round of fixtures, BBC football pundit Garth Crooks is on hand to give you his Team of the Week.
But who has he picked this time? Take a look and then pick your own team below. As ever, Garth also has his say on the game's big talking points in the Crooks of the Matter.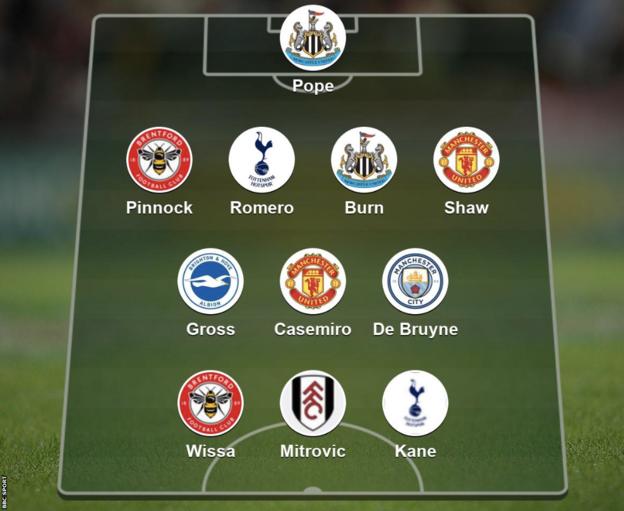 Nick Pope (Newcastle)
He didn't have an awful lot to do but when he was called upon, Nick Pope was brilliant and kept his team in the game.
Another three points on the board would have stretched Arsenal's lead at the top of the table and Newcastle were having none of it.
The most-improved side of 2022 stood up to the Gunners and took them on in their biggest test under manager Eddie Howe.
Pope's save from Eddie Nketiah was outstanding due to its importance. Pope and his Newcastle team-mates are to be taken seriously. They are starting to come to terms with the big games.


Ethan Pinnock (Brentford)
For the second consecutive week, I find myself selecting Ethan Pinnock for my team.
His performance against a Liverpool side who were battered in the first half, then tried to fight back in parts of the second, was resolute and in the same form I saw him in against West Ham only a few days earlier.
For a player I thought might struggle in the Premier League, he seems to be growing in confidence with every game.
However I have some concerns about Liverpool. Their midfield didn't just look old against Brentford, it is old – and Jurgen Klopp needs to do something about it if they want to stand any chance of securing a top-four place this season.
Cristian Romero (Tottenham)
A clean sheet at last. There haven't been many of those for Spurs recently.
Now they have Cristian Romero back from a successful World Cup campaign, things are starting to look more positive for Tottenham.
The Argentine defender was outstanding for his country and seemed to bring the same assured confidence with him from Qatar to Selhurst Park.
Spurs have been struggling in games recently, particularly in defence, but Romero's presence against a Palace side who dominated the first half made a significant difference.
It's been a long time since Tottenham had Argentine World Cup winners in its ranks.
It's normally a good sign.
Dan Burn (Newcastle)
I think Dan Burn is having an amazing season.
Since his arrival at St James' Park from Brighton, the defender has not just been ever present for Newcastle but has been at the heart of their defensive displays.
Six consecutive clean sheets and two goals conceded in their last 11 games in all competitions tells you just how far the Magpies have come these past few months.
Burn's challenge on Gabriel in the box caused Mikel Arteta to blow a fuse when the penalty appeal was denied. I don't know why – he doesn't complain when his team are awarded the occasional disputed penalty.
Arteta's hysterics on the touchline are making him look ridiculous. A cooler head from their manager in the latter stages of this encounter might have produced a better result.
Luke Shaw (Manchester United)
This is arguably Luke Shaw's best season at Manchester United. He filled in for Lisandro Martinez at centre-back while he was on World Cup duty for Argentina and was outstanding.
Shaw returned to his more familiar role at full-back for United against Bournemouth and was inspirational.
The defender's goal was Shaw at his best. He started the move deep in his own half and finished it with aplomb.
Bournemouth, meanwhile, have lost a lot of what they had gained before the World Cup.
I didn't expect them to beat Manchester United but they do need to get back to the form they showed before the international break.


Pascal Gross (Brighton)
I couldn't compose a team this week without acknowledging Brighton's 4-1 win away at Goodison Park.
There were a number of notable performances from the Seagulls but the goal by Pascal Gross was my favourite and it has put manager Frank Lampard's tenure on Merseyside on skid row.
Everton got a well-earned point at Manchester City last weekend and enough impetus to go into a game against Brighton expecting better things.
What took place was shambolic. I said before the World Cup break that I expected Lampard's time at Everton to be short term and nothing has changed my mind.
Casemiro (Manchester United)
The arrival of Casemiro at Manchester United has been as important as the departure of Cristiano Ronaldo.
The Brazilian midfield maestro has taken his time to become part of the United set-up, appears to have made no demands on the club and is playing a major part in the team's renaissance at Old Trafford.
The same can't be said of Ronaldo. As the Portugal superstar embarks on his next soap opera in Saudi Arabia, Casemiro has skilfully steered the Reds back to the top four with Champions League qualification now a distinct possibility.
Kevin de Bruyne (Manchester City)
I'm beginning to think the Chelsea job is too big for Graham Potter. The Blues are 10th in the table with their prospects of finishing in the top four fading by the game.
I said his appointment was a big ask at the time – not because he is not a good manager but because Chelsea are programmed to win trophies and Potter has never navigated that route.
Pep Guardiola on the other hand has. Guardiola made four changes to his starting line-up in order to beat Chelsea but there is one player he refuses to substitute and that is the perfect team player.
Kevin de Bruyne could have shot when he passed to Jack Grealish, who in turn found Mahrez to score.
With De Bruyne in their team, anything is possible and that's why Arsenal are by no means nailed-on champions just yet.

Yoane Wissa (Brentford)
Against Brentford, this was not the Liverpool I saw destroy Aston Villa on Boxing Day. This was more like the Liverpool that got pulverised at Craven Cottage earlier in the season.
They looked like a side that felt so entitled to the points they didn't have to compete.
Well, Brentford reminded the former European champions what a proper contest actually looked like and what happens when a team is prepared for battle and is not fazed by reputations.
The player who took it upon himself to lead the charge for Brentford was Yoane Wissa.
Not only was he brilliant on the night, he didn't sulk when his two previous goals were ruled off-side.
Eventually, Wissa got his reward with an even better goal for his sheer perseverance when his header was judged to have gone over the line.
Nice to see VAR doing its job properly for once.
Aleksandar Mitrovic (Fulham)
The ball for Aleksander Mitrovic from Willian, who has found his form again after his awful time at Corinthians, was superb and dispatched by Mitrovic with the sort of confidence that suggests the striker is right on top of his game.
I can't remember when I've seen such a transformation in a striker.
He's always been a handful for centre-backs and commanding in the air but what I'm witnessing now is a centre-forward whose finishing is lethal.
His goal against a Leicester City side badly affected by the interruption to their season due to the World Cup was of the highest quality.
Leicester are not in trouble yet but they might be if they don't start finding the back of the net.
Harry Kane (Tottenham)
With Harry Kane up front and Cristian Romero at the back, Spurs looked a completely different outfit.
Admittedly, Tottenham were very unconvincing in the first half against Crystal Palace but Kane's predatory instincts and appetite for goals simply destroyed anything Palace had to offer.
I said recently, when I selected Kane in my team after his performance against Brentford, just how important it was for Tottenham that the England striker returned to work without having been psychologically scarred by the World Cup.
His displays have been exemplary since his return.
This is a player with enormous mental strength and Spurs are exceptionally lucky to have him.


The Crooks of the Matter
I was taken aback recently when former World Cup referee Howard Webb suggested referees had 'always' struggled to get ex-players involved' when it came to officiating in the professional game.
I have no idea where he got that information from but I can assure him that has not been the case.
I can go back as far as the late-80s when, as chairman of the Professional Footballers' Association (PFA), I addressed the Referees' Association annual conference.
I appealed to them – no, begged them – to provide ex-professional footballers with exemptions for their years of service and have them fast-tracked into the system.
At the time there had been some appalling decisions made by referees in big games and it was felt officials could be helped by adding ex-players to their roster.
Although my speech was well received, their answer was an unequivocal no!
The reasoning was a simple matter of protectionism and the feeling that once players were allowed to become referees, their Association would be swamped by former professional players.
While I'm delighted the newly-appointed Webb, who will oversee all officials in the Premier League and English Football League, feels so inclined as to bring down the drawbridge, he would do well to apologise to the PFA on behalf of his profession for blocking career pathways.
He can rectify the situation by initiating formal discussions with the union to fast track ex-professional players into playing officials. It's the least he can do.
Pick your XI from our list and share with your friends.




Checkout latest world news below links :
World News || Latest News || U.S. News
The post Who is having their best-ever season? Garth Crooks' Team of the Week appeared first on WorldNewsEra.