Police have found themselves in situations where they are de-facto social workers, dealing with increasingly complex cases of mental illness and drug use
Article content
Shaelyn Yang tried to save a life. Instead, she lost her own.
Article content
As communities across the country grapple with tent cities, crime and the drug epidemic, the death of the young Mountie, allegedly at the hands of a homeless man in Burnaby, B.C., shows just how badly things can go wrong — even for those trying to help.
Article content
On Wednesday, thousands gathered to mourn the death of Const. Shaelyn Yang, 31. A parade wound its way through Richmond, where Yang lived with her wife. She was, according to a GoFundMe page that had raised nearly $100,000, "someone with an extraordinary gift for lifting others up. What set Shaelyn apart was her heart and its capacity to help and care for others."
"Shaelyn's heart gave her the exceptional ability to help the community's most vulnerable," the post said.
Article content
On Oct. 18, Yang tried to do just that.
She had been called to a tent encampment near Broadway Park in Burnaby. Yang was a member of the team that did outreach to those experiencing homelessness and mental health issues. Along with a city employee, Yang arrived on scene, according to police, with the intent of notifying the occupant of a tent that he could not be there, something that police said had been done before.
There was, police said, just the one tent. Yang and the unidentified city employee were not there to actually remove the tent or its occupant, police said.
These sorts of interactions are common across the country as politicians and police in cities from Victoria to Edmonton to Toronto deal with tent cities and homelessness. Sgt. Tim Pierotti, with the RCMP's Integrated Homicide Investigation Team, said the duties Yang was performing that day were "absolutely" part of the routine duties of the team of officers she worked with.
Article content
Still, there are times when police relations with people living on the streets have deteriorated into violence. And advocates for homeless communities have long argued that the practice of moving along those who live in public spaces and confiscating belongings leads to "a cycle of displacement that diminishes the dignity, safety, and well-being of people," according to a report from Vancouver's Pivot Legal Society.
Back in August, chaos unfolded in Vancouver as police moved to dismantle a tent city after the city's police chief raised concerns about fire. A number of people were arrested, Vancouver police said, after what they described as a "melee" broke out after police tried to arrest a man who was throwing computers. More recently, police investigated an East Hastings encampment after a person was shot with a crossbow.
Article content
It has led, in some spots, to an increased focus on tough-on-crime politics as residents and businesses clamour for a solution, and police have found themselves in situations where they are de-facto social workers, dealing with increasingly complex cases of mental illness and drug use.
In Victoria, a number of violent incidents, including a man who was attacked with a knife for refusing to hand over a cigarette when asked — and Yang's death — have led police to re-evaluate how they police the homeless community, the Victoria Times-Colonist reported.
"We'll reassess how we approach and prioritize safety. Although we don't know the details of what exactly happened … it's an opportunity for us to ask questions, review our tactics and make sure we are doing everything we can to prevent a similar incident happening here," Chief Del Manak told the paper.
Article content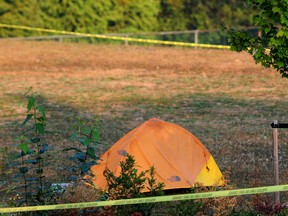 Yet, a new poll done by Leger for Postmedia shows some sympathy towards those experiencing homelessness. Twenty-five per cent of those polled believe that the homeless have the right to set up tents or other shelters in parks, vacant lots or along river banks, and 29 per cent believe they should be allowed to spend time in libraries, parks and transit shelters.
Still, 45 per cent believe that they should be banned from setting up shelters in public spaces, including 21 per cent who "strongly agree" with a ban. British Columbians are the most enthusiastic about such an idea (56 per cent) followed by Alberta (55 per cent), Ontario (46 per cent) Manitoba and Saskatchewan (both 44 per cent), Quebec (36 per cent) and Atlantic Canada (27 per cent).
Article content
Forty-six per cent of Canadians say homelessness makes them feel unsafe, and 39 per cent believe it has "increased acts of violence" in the community. On the latter, B.C. dwarfs other provinces: 72 per cent believe that, compared to 52 per cent in Alberta, 51 per cent in Manitoba and Saskatchewan, 39 per cent in Ontario, 13 per cent in Quebec and 32 per cent in Atlantic Canada.
On the day that Yang was killed, there was no big tent city, no brawl.
Just a routine, daily policing task that ended in tragedy.
While police have released few details — describing what happened as an "altercation" — a police report obtained by Global News suggests that Yang thought the man in the tent was overdosing, as she saw him "with eyes closed and unresponsive."
Article content
Upon saying that she would give Naloxone, a drug that can reverse the effects of an opioid overdose, the man came out of the a tent and threatened Yang and the other person. The suspect then, the report says, "charged" Yang and stabbed her in the chest.
In the struggle, the report says, Yang tried to hold the man's legs while the other person tried to "provide restraint." There were two "muffled pops," the report says, and the man said he'd been shot. Pierotti declined to confirm details of the altercation to National Post. Court "is when we expect all the truth to come out."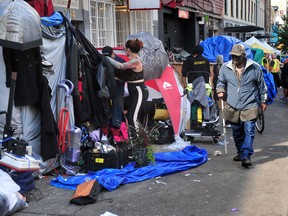 The whole incident happened within about 30 minutes. Yang and the man were transported to hospital; Yang was pronounced dead. The Independent Investigations Office of B.C., (IIO) which investigates instances of death or serious harm that occurred because of police, is investigating.
Article content
The man, whom the Integrated Homicide Investigation Team identified as Jongwon Ham, survived his injuries and has been charged with first-degree murder. He has been discharged from hospital but remains in custody, said Pierotti.
Ron MacDonald, the chief civilian director of the IIO, said he was unaware of what the specific injuries were, but that Ham suffered from one gunshot wound and that the IIO believes only one shot was fired.
MacDonald was unable to confirm other details of what led to Yang's death — such as whether she had intended to administer Naloxone to a man she believed to be overdosing.
"Details of the facts of the case, if released, could interfere with the fair trial interests of the accused and impact the prosecution," said MacDonald.
Article content
Ham, 37, appears in few news reports, although he has a busy recent record of interactions with police over the last two years, according to the Vancouver Sun. He had two extant warrants for assault out at the time of Yang's death, one related to a February incident and another to a March incident. Court records also show that Ham had missed a number of court appearances, yet continued to receive bail.
Details of Ham's life remain unclear — at least prior to his name appearing in court records. Global News reported that he was once a member of Toronto's film community, having worked on an Emmy-award winning travel and food documentary that aired on PBS. Michael-Ann Rowe, who worked with him on that documentary, expressed astonishment at the trajectory of his life.
"His demeanour with me was good. And I had a good go with him when he was working on my documentary series," Rowe said. "He was a nice chap, polite, violence is not something that I would put with that, but you never know what people do behind closed doors, but I never experienced that."
Checkout latest world news below links :
World News || Latest News || U.S. News
The post What the tragic death of a Mountie trying to help says about the homelessness crisis appeared first on WorldNewsEra.