'There was one time in particular where I thought I was probably going to get fired,' Glenroy Gilbert admits
Article content
After he won gold as a key member of the legendary '90s Team Canada 4x100m relay squad, Glenroy Gilbert turned to coaching – and struggled.
Article content
"The initial start of my coaching … we were having trouble dropping the stick and running out of the zone," Gilbert said in an interview.
"There was one time in particular where I thought I was probably going to get fired, which was in 2011 back in Daegu," a South Korean city that hosted that year's world championships.
Gilbert did lose the gig in 2013 after a relay disqualification at the 2012 Olympics and a change in leadership at Athletics Canada. After a brief stint with the Canadian Paralympic Committee, he was invited back to the relay program two years later. He restructured the team and went on to coach Akeem Haynes, Aaron Brown, Brendon Rodney and Andre De Grasse to a bronze medal at the 2016 Rio Olympics.
Article content
Then, last weekend, Team Canada won relay gold for the first time in a quarter-century at the 2022 Track and Field World Championships in Eugene, Oregon.
Former '90s teammate Donovan Bailey shared his enthusiasm live on air with CBC Sports, where he is a commentator and analyst.
"Congratulations to my brother Glenroy for leading this squad, congratulations to the team; 25 years ago, it was gold and the greatest way to celebrate that is with another gold," said Bailey, a onetime world 100-metres record holder and for a time the world's fastest man.
Through his many ups and downs, Gilbert, age 53, has remained humble; he says the hardships are only a part of his journey.
"It's like anything you set out to achieve. I didn't expect it would take as many years for me to get to this point, to get the team on the top of the podium, but you know what, it is what it what it is," Gilbert said.
Article content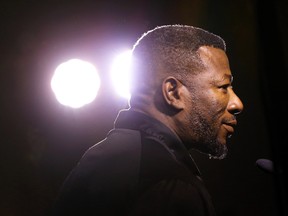 Gilbert has worked with the same core of runners since 2016 — Brown, Rodney, and De Grasse — and Gilbert says that built character among the group, and offered them the experience to perform at the highest level.
Gilbert says the Canadian relay team, which now also includes Jerome Blake, is often underestimated, and he doesn't understand why the rest of the world is shocked when Canada finally wins. Many people on social media called the win an "upset," although Canada has had many second and third place finishes.
One Twitter user wrote, "Canada just upset USA in the men's 4x100m relay final to win its first gold in the IAAF world championship. What a way to end the night after gold medal favourite and leading decathlete Damian Warner got injured."
Article content
It's been a long race for Gilbert, and he's looking to what's next. He says he's always watching the next generation of Canadian runners.
"The way I look at is if you're not looking at the future and looking for who those future guys are then you're not planning and that's what I do, I try to plan for the future and make sure that we have camps to bring the young guys in. We have established this relay pool every winter and spring where we can upscale them so that when their time does come, there's less work for us to do in terms of teaching how to take a pass of the baton and run through the acceleration zone," he said.
The quest to become a world champion is one that all athletes dream of. For Gilbert, who has now done it as an athlete and a coach, the experience comes full circle.
"I'm a very goal-oriented person, and I set goals with everything that I do and try to achieve those goals; this was one of them. If you're a like-minded person, then anything you set out to do, you'll work at it, and you'll work hard at it until you get the achievement that you're looking for," Gilbert said.
Checkout latest world news below links :
World News || Latest News || U.S. News
The post Twenty-five years later, onetime track star coaches Canada back to 4x100m relay gold appeared first on WorldNewsEra.