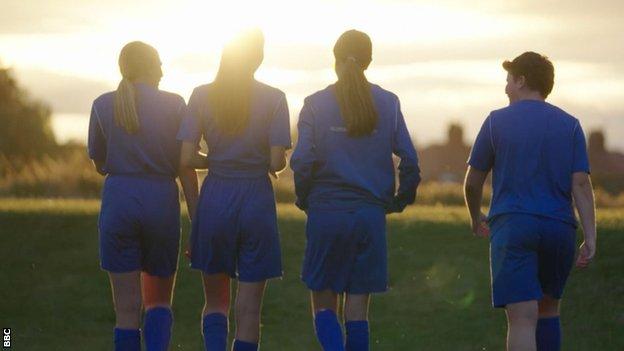 Watch We Are England- England's Next Lionesses on
BBC iPlayer
from Monday, 9 January at 20:00 GMT.
Jill Scott ended 2022 as a European champion and the queen of the jungle.
But were it not for a youth worker in South Shields who set up a grassroots team for girls 30 years ago, she is sure her life would have taken a different path.
In a heart-warming new film on the BBC, Scott returns to South Shields to revisit the club where her journey in girls' football began.
Boldon Girls was established in 1992 by Paul Smith, and the club counts three Lionesses among its alumni – Scott, Steph Houghton and Demi Stokes.
Houghton captained England for eight years, while both Scott and Stokes were part of the squad that won the Lionesses' first major trophy at Euro 2022.
Scott retired in August as one of the most decorated footballers in the country. The 35-year-old played in 10 major international tournaments, including two Olympics. At club level, she spent nine years with Manchester City – winning the Women's Super League once and both the FA Cup and League Cup three times. She also won the FA Cup at Everton.
But in a tale that is all-too-familiar for the Lionesses, Scott struggled to find opportunities to play football as a child.
"I don't think I'd have gone on to play for England without Paul," she says during the film.
"I got told at the age of nine that I couldn't play with the boys any more. I had to go and find a girls' team. That was when I found Boldon and met Paul Smith.
"Paul used to pick us up, take us to training. Those are my happiest memories – getting up dead early on a Saturday, playing football, travelling around with the girls having such a laugh."
Looking back, Smith says the problem was there was no provision for girls' football.
"There was no league, the Football Association didn't really provide anything," he says. "The boys weren't letting them play."
Smith did – and he can now reflect on seeing young players he coached go on to achieve international success.
"I was proud for an England team to win a big tournament," he says. "I think Boldon has played a part in their success."
When Scott returns, she is pleased to see how the club has progressed.
"I think one of the main differences is that I can see more than one coach for the whole session," says Scott. "I think it used to just be Paul on his own, bless him."
Provision for grassroots girls' football has been a focus for the Football Association in recent years.
In 2020, the organisation launched a women's and girls' strategy, called Inspiring Positive Change, which aimed to increase participation.
And in November 2022 it reported that since October 2021, there had been a 17% increase in female affiliated players across all levels of the game, a 30% increase in female registered football teams, and a 15% increase in female youth teams.
Despite that, there is still plenty of room for growth, with the FA calculating that only 63% of schools in England offered equal access to football for boys and girls through PE. Their target is to increase that number to 75% of schools by 2024.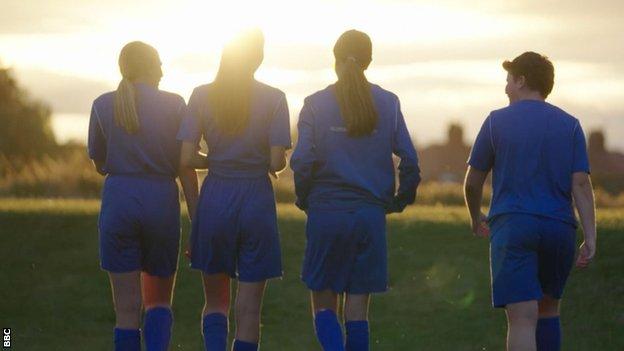 During the film, Scott meets players from Boldon with aspirations to make it professionally.
Abbey, who captains the under-15s team, says: "I'd love for football to be my full-time job.
"The Lionesses are really inspiring. It's a really good feeling knowing they came from this club."
And Scott is hopeful stories like hers can encourage other young girls.
"Growing up, my role models were David Beckham and Steven Gerrard – male footballers, because that's what I could see on the TV," she says.
"I think it's great now that the women's game is more visible, more accessible. Hopefully, by winning this medal, it gives the girls more bragging rights.
"If the boys say 'girls can't play football' the girls can say: 'Well, there was a game at Wembley this year where the girls did well!'"




Checkout latest world news below links :
World News || Latest News || U.S. News
The post The grassroots team that produced three Lionesses appeared first on WorldNewsEra.