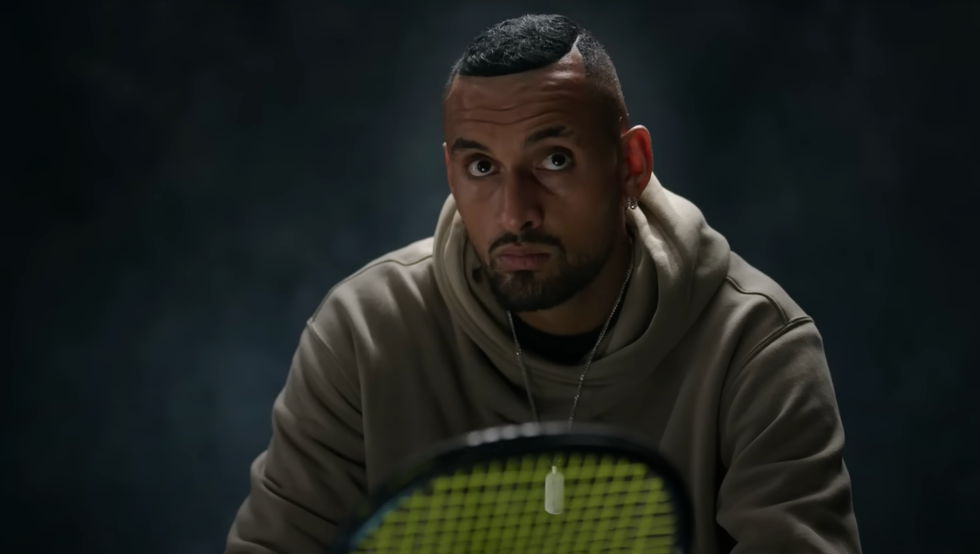 Somewhere, probably stashed in ESPN's archives, is a dusty hype reel labeled, in all-caps, BIG TENNIS. It's responsible for the version of the sport we have lodged in our cultural psyche. The one that's all Grand Slams and Swiss elegance and sisterly domination. It runs on pure dopamine, theatrics, nostalgia, and sheer, unadulterated hype.
Rarely does it account for the middling travail of life on the professional tour. Lonely birthdays and mid-match tendon rupture, the anguish of stunted careers, dismal paydays and emotional flameout. This tennis, the one fueled by endless cycles of disappointment, nagging injury, and losing—constant, constant, losing—is the one that Netflix's Break Point, streaming this Friday, was inspired by. Tennis that's ugly, brutish, and outright cruel.
The 10-episode docuseries, which follows the lives and toil of some of the biggest next-gen members of the ATP and WTA, is produced by Paul Martin and James Gay-Rees of Box to Box Films. You might know the duo better from their work on their other seismic sports documentary effort: Formula 1: Drive to Survive. They wanted to give tennis, often prone to sanitized cliches and "work hard, dream big!" refrains, the behind-the-platitudes treatment it deserves. To show how exhausting, and relentless, and disappointing life on the pro tour could be. Just before Christmas, Martin and I spoke on Zoom, where he was in his car in a Whole Foods parking lot. He and his family had moved to Los Angeles three days earlier, and his wife and children were inside buying groceries. We began on a pressure point—the one that got away.
"Five, maybe six years ago, we spent a lot of time with Andre Agassi in Las Vegas, in Los Angeles, over a 12-month period," said Martin. In 2009, Agassi, the American former world No. 1 tennis player, the eight-time Grand Slam champion, authored a memoir, Open. Martin couldn't get it out of his head. Fans of the book tend to have similar reactions to it. A kind of agape, guttural appreciation for its honesty. Even more? Its brutality.
For a halcyon moment in time, Martin and Gay-Rees were on track to turn Open into a film. "We got very, very close to it happening. And then, for various reasons, it fell down at the last hurdle." Martin laughs. "Andre had turned down Spielberg. But we honestly thought we had it over the line. And then at the last minute, it went away. And that hurt."
For Martin, it was the book's opening scene that got to him: the 2006 US Open men's second-round, five-set blowout between Agassi, then 36 years old, on the brink of retirement, his ailing back pumped full of cortisone, and a 21-year-old Marcos Bagdhatis. Agassi won. He described how he and Bagdhatis held hands in semi-consciousness later, watching the replay side-by-side on their massage tables. "It stayed with me from the moment I read it." Martin said. "He had one of the most extreme careers, just the ultimate case of the biggest highs, but some of the most terrible kind of lows."
When the film possibility fell apart, Martin and Gay-Rees vowed that if they ever had the chance to show the side of that kind of tennis—the kind that rips your heart out and your body apart—they'd jump at the opportunity. The phenomenon of Drive to Survive, running for four seasons and counting, was enough to get a sit-down with the notoriously finicky ATP, the WTA, and the organizing bodies of the four Grand Slams. Anyone who has ever tried to get even one interview with a single player in the lead up to, or during, or after a Slam—including the author of this piece!—nows that such a wrangling is a miraculous feat unto itself.
"We hadn't talked to a single player probably until about this time last year," Martin said. "So we were really up against it. In an ideal world, it would have been, 'Right, we'll put everything in place and do this next year.' But there just wasn't that option. It was more like, go down to Australia and find some players that want to be in this thing." So that's what the filmmaker did. He boarded a plane on January 3, 2022 ("I think it was the 3rd"), arrived in Melbourne, and started chipping away at the various layers of agents and managers and question-answerers needed to get the players involved.
The athlete who surprised Martin? The American player from Rancho Santa Fe, California, Taylor Fritz. "Taylor was someone who was not on my radar at all," he said. "I had never really heard of him, to be honest. And the first time we met him, there was just something immediate about him. There's a genuine honesty there."
In March 2022, Fritz beat Rafael Nadal to win the Indian Wells tournament—affectionately known as the "fifth Grand Slam"—becoming the first American of any gender to do so in 21 years. Plus, he'd done it right there in his home state. Fritz was lucky he'd been able to do it all. In his morning practice session the day of the final, his ankle hurt so badly his entire team was begging him to withdraw. "We were there with them at Indian Wells," Martin said. "And they all said to him, 'You can't go out and play against Rafa like this. He's gonna destroy you.'"
The moment Fritz won, the play that unraveled in a stunning series of seconds, really, was especially memorable: his baseline drive of a down-the-line forehand, Nadal's delayed lunge to return it, the shock of victory as Nadal's shot flies way, way out, past the ump—and Taylor collapses. Tears well in his eyes. "No fucking way," he repeats, over and over again, as he gets up and walks the length of the court, hands on his head. "No fucking way." In the awards ceremony, Fritz's voice cracked as he thanked his family, girlfriend, and childhood hero, whom he'd just beaten in straight sets. It all looked great. The promising young champ, bravely playing through the pain, delivering a last-gasp victory to tie it all together.
"People see tennis as this genteel game, that it's wearing white and it's strawberries and cream," Martin added. "And isn't it all so graceful? No. It's filthy, tennis. And it's hard. We sat down and we did probably 25 player interviews at the Australian Open last year. And every single one of them that we did, James and I came out of them and were like, 'I don't know why they do it. I genuinely don't know what the upside is. Because that looks like torture.'"
In Break Point, we see sped-up versions of what's weighing on Félix Auger Aliassime in 2022—of whether being coached by Nadal's uncle Toni will help or hamper the prodigious Canadian's chances on clay. Headed into the Australian Open, we hear Nick Krygios admits he's two different people, and we hear the anger and the hurt in his voice as he talks about the racist things people scream at him from the stands. We watch his peers silently watch his on-court tantrums from backstage. In its best moments, Break Point stays very still. The air and energy fall out of the room and the camera doesn't move. No music, no match reels. Poignancy is in the scenes in hotel rooms, in the muted conversation that Tunisian player Ons Jabeur has with her husband (who doubles as her fitness coach) about having a baby. It's also in the talk Auger Aliassime has with his sister, holding back tears after losing to Nadal. Break Point lives right where it's quiet—where the sadness is.
Really, a number of Break Point's storylines are structured around losing. Several of its featured players, not yet household names, have been subject to the chronic narratives around unfulfilled promise from their junior careers. There's an uneasy sense that for all of them, even the ones who are 22-years-old, an existential clock is ticking toward the time and stamina they have left to win a Grand Slam.
Martin's use of the word filthy describes it all. "I played sport my entire life as a kid," he said. "Tennis would have ruined me. Tennis would have just ruined me mentally."
Writer
Caira Conner is a writer based in New York.
This content is imported from OpenWeb. You may be able to find the same content in another format, or you may be able to find more information, at their web site.
Checkout latest world news below links :
World News || Latest News || U.S. News
The post The 'Drive to Survive' Creators Made You Love F1. Can They Do It With Tennis? appeared first on WorldNewsEra.