Simple salads can be a life saver, especially when it's time to get back into a routine for back-to-school. Add this Summer Spinach Salad with Tomato to your dinner plan this week!  A few ingredients and a light oil and vinegar dressing is all you need to add this nutritious salad to your meals.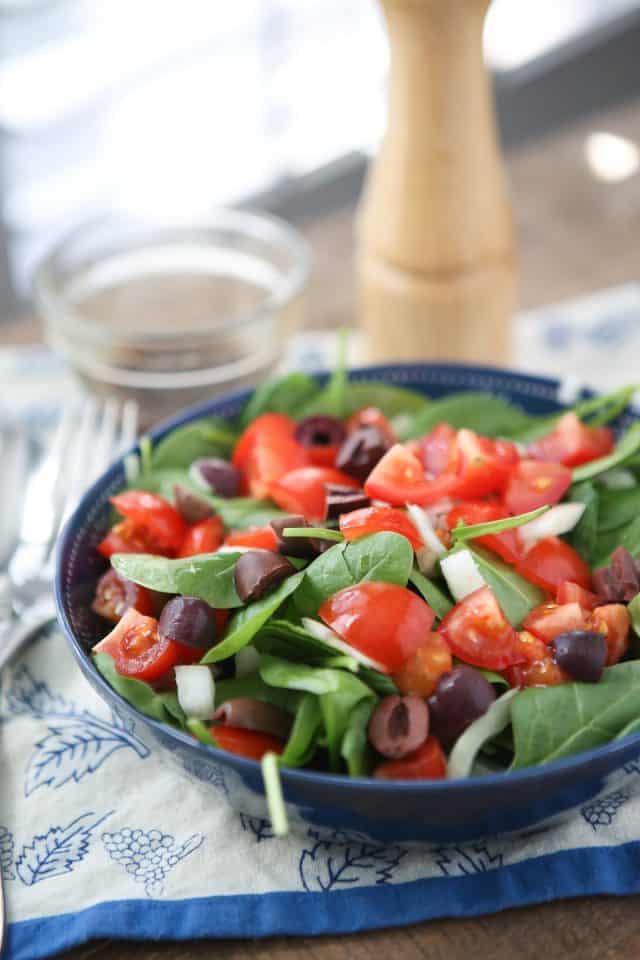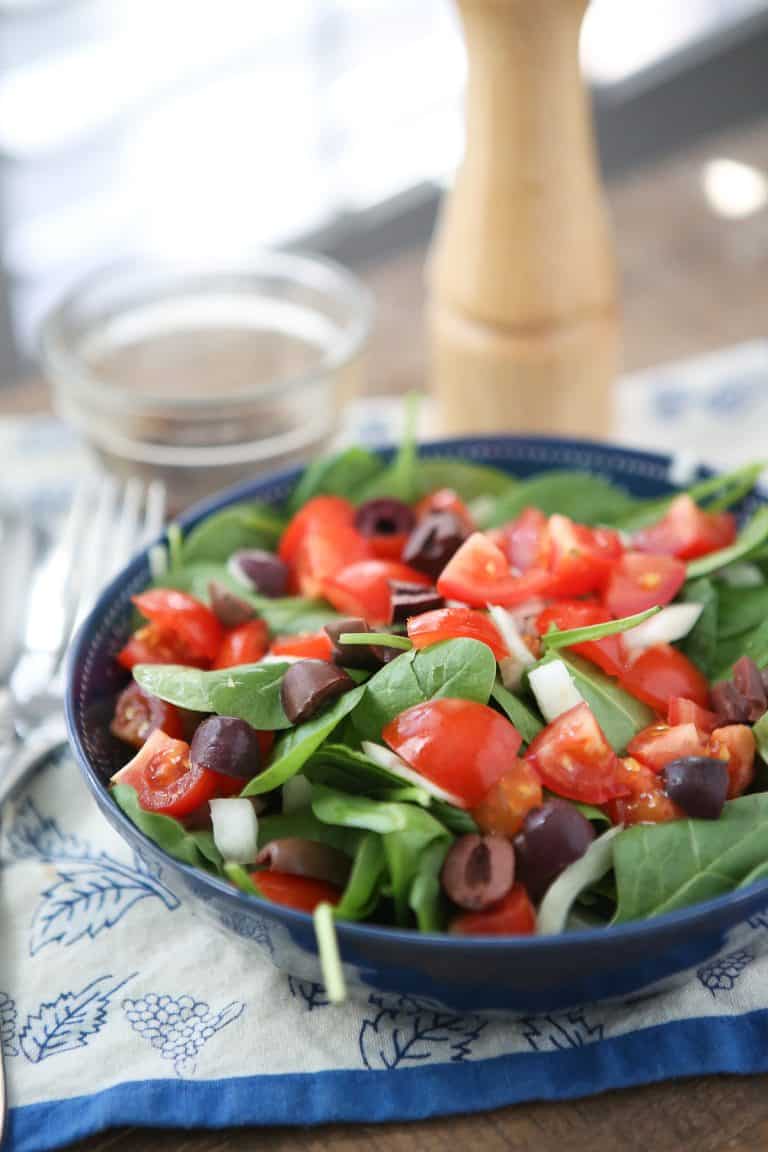 I'm not sure about where you live, but this week has been all about back-to-school in our household. This is a big year for my family, my youngest is starting kindergarten, my daughter in the middle is entering 7th grade and my oldest son is a freshman! I have no idea how we got here, but we are here now. It's exciting, but also a bit of an adjustment having 3 kids in 3 different schools.
With back-to-school comes the need to plan for dinner. Summer break is so laid back for us that I basically wing it every week for the most part. I don't know if I would necessarily recommend that but that's typically how summer rolls for me. Right now though I'm in more of a meal planning mode, looking for simple dinners that everyone will eat (per the usual!).
Although it's back-to-school, let's be real. It's still very much summer. It's also still my favorite produce season.
#FRESHSUMMER 2019 PROJECT:
My dear friend Lora and I have teamed up this summer to share our love of summer produce with you – we came up with a theme for each month of our #FreshSummer recipes. August's produce pick is tomatoes! I am sharing today's super simple Chopped Tomato and Spinach Salad. This salad would pair up nicely with grilled chicken or seafood. Lora is sharing a recipe for her Spaghetti with Fresh Tomato Sauce, it is a beautiful dish and is making my mouth water.
In case you missed it, for the month of June we chose to share something we both made with cucumbers. Be sure to check out my Cucumber Avocado Salad  and Lora's Sweet Summer Corn and Cucumber Salad. For July, we chose watermelon. Lora shared her recipe for Asian Watermelon Salad and I shared my daughter's new favorite salad this Watermelon Feta Salad with Basil.
If you make a tomato recipe this month, be sure to tag us on Instagram with #FreshSummer. Follow us @aggieskitchen and @savoringitaly to see our stories and what we are dishing up!
If you make this tomato salad recipe or any of my summer side dish recipes please be sure to tag me on Instagram @aggieskitchen #aggieskitchen and #freshsummer!
The post Summer Spinach Salad with Tomato appeared first on Aggie's Kitchen.