My partner is a sucker for prosciutto. I don't buy it very often, as neither of us are really supposed to be eating it in the first place, but it's really nice to indulge every now and then and this Spinach and Prosciutto Frittata is a delicious, easy choice. With coconut milk for body, its dairy free and chives, parsley, and thyme add lovely bursts of flavor. Enjoy!
Keep it Simple with Freezer Cooking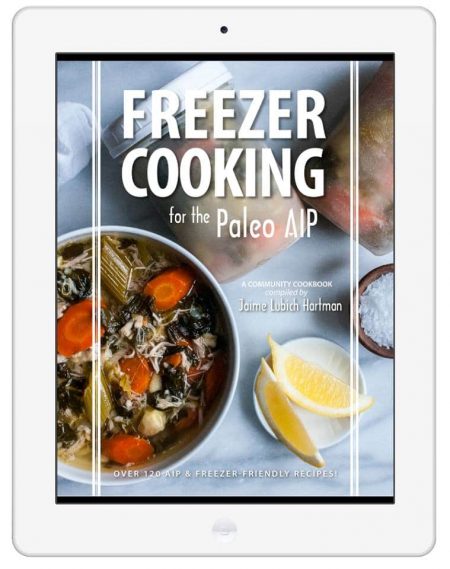 Preparing meals ahead of time and keeping them on hand in the freezer is one of the best ways to make any diet change sustainable. You'll wind up spending less time in the kitchen most days and will always have something ready to go when hunger or cravings strike. With Freezer Cooking for the Paleo AIP, you'll get 123 tried-and-true recipes from 30 of your favorite autoimmune protocol bloggers to help you out. Designed for batch cooking and advance prep, each recipe includes instructions for storing, freezing, and reheating it. There are recipes for every meal of the day and recipes for special occasions, too! The ebook is now available as a digital download for $18.90.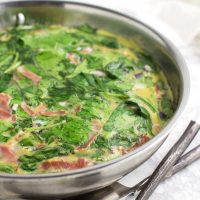 Spinach and Prosciutto Frittata
This Spinach and Prosciutto Frittata makes for a delicious breakfast or brunch, with chives, parsley, and thyme adding flavor.
Instructions
Preheat the oven to 325 degrees F and grease an oven-safe skillet with coconut oil.

Combine all the ingredients in a large mixing bowl and stir well, then pour into the skillet.

Bake 25 minutes or until the egg has set in the middle.
The post Spinach and Prosciutto Frittata appeared first on A Clean Plate.