The touch of red chili paste elevates this simple mushroom skewer side dish into a mildly spicy, mouthwatering accompaniment perfect for any Asian or Middle-Eastern rice-and-meat main. Or use this as the star of your vegetarian meal. If the weather's nice and you're in a grilling mood, you can grill these instead for a nice smoky flavor add-in, but they come together just as nicely in the oven. Enjoy!
Looking for Low-Histamine Recipes?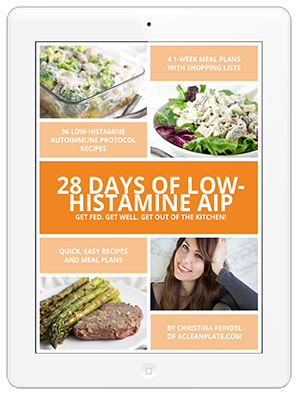 A low-histamine diet can be immensely helpful for MAST cell disorders or people with excess histamine production, but it's an extremely tricky diet to manage. My e-book 28 Days of Low-Histamine AIP combines low-histamine foods with the anti-inflammatory autoimmune protocol diet in a 28-day meal plan designed to jump start and simplify your diet change. The meal plan includes 36 simple, satisfying low-histamine recipes including a variety of dishes like Chicken Schawarma, Cabbage Roll Stir-Fry, and Chimichurri Steaks. You'll be amazed at all the flavors still available to you! The ebook is available as a digital download for $9.99.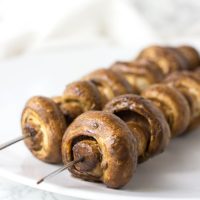 Mushroom Skewers
Serve these quick and easy, mildly spicy mushroom skewers alongside your favorite Asian or Middle-Eastern rice and meat dishes, or use them as the entree of a vegetarian meal.
Instructions
Combine all ingredients in a large bowl and mix well, then marinate in the refrigerator 30 minutes.

Preheat the oven to 350 degrees F. Divide the mushrooms evenly between four metal or soaked bamboo skewers.

Place skewers on a wire rack on top of a rimmed baking sheet. Roast 9-12 minutes, until tender.
The post Spicy Mushroom Skewers appeared first on A Clean Plate.