These Pumpkin Spice Plantain Pancakes are a fun seasonal variation on one of my favorite recipes of all time. Plantain pancakes first came to me from The Paleo Mom and in the years since I have had more versions of them than I can count. Not all of them have been blog-worthy, but they've always been enjoyable. I meant to publish this version last fall, but it got a bit lost in the shuffle, and its not as if these spices are only good in autumn! Get your pumpkin spice on with these delicious grain free, dairy free, easy as pie pancakes.
Struggling with thyroid disease?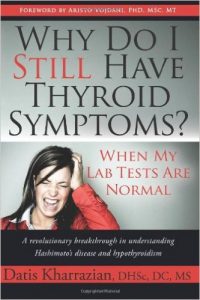 Why Do I Still Have Thyroid Symptoms? by functional medicine practitioner Datis Kharrazian is single-handedly responsible for my improved health over the past few years. It introduced me to the connection between autoimmune disease and lifestyle factors like diet at a time when my doctors were telling me there was nothing wrong with my thyroid even though I had high antibodies. This book gave me the information I needed to get the right tests ordered and seek proper treatment. It's a must-have guide for anyone who has already been diagnosed with thyroid disease, who is at risk due to family history, or who strongly suspects they may have it but isn't sure where to start. I can't recommend it enough!
Pumpkin Spice Plantain Pancakes
These Pumpkin Spice Plantain Pancakes are grain free and dairy free, but packed full of beautiful fall flavors.
Instructions
Combine all ingredients except the coconut oil for frying in a blender and process until smooth.

Heat a splash of coconut oil in a large skillet over medium-high heat. Use a 1/4 cup measuring cup to pour the batter into the pan and cook the pancakes in batches, 3-5 minutes per side or until golden-brown and cooked through.
The post Pumpkin Spice Plantain Pancakes appeared first on A Clean Plate.