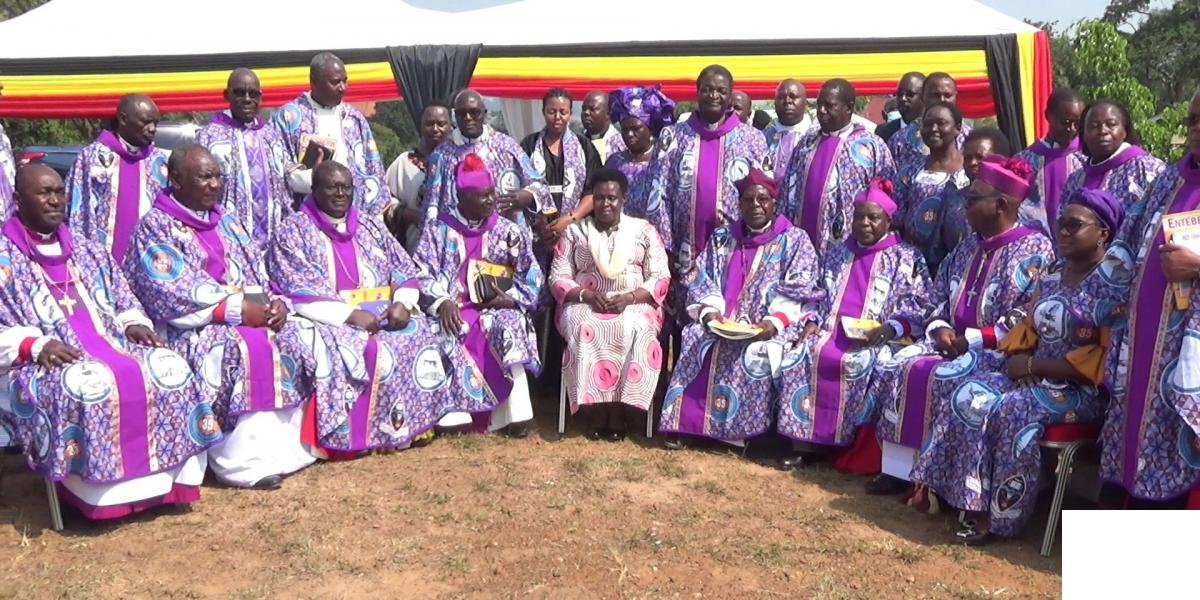 The Vice President of Uganda, H.E Major (rtd) Jessica Alupo has assured Ugandans that President Yoweri Museveni is still around and should support him during the 2026 polls to drive forward the development agenda of Uganda he started way back in 1986 when NRM government captured power.
Speaking during celebrations to mark 35 years of Entebbe Church of Uganda Archdeaconry on Sunday, Alupo said the able leadership of President Museveni has enabled the country to register growth in the road, industry, power, and ICT sectors and the people should just support him to continue that development to emancipate Ugandans out of poverty.
"From your faces and body language I can see you are ready to give him more time in State House … Pulesident Museveni ajja kuba naffe mu 2026. Nsaba mumwagire nga bwe mubadde mukola ebbanga lyonna. …," Alupo said in Luganda seemingly driving her point home. The assurance comes at a time when the First Son Gen Muhoozi Kainerugaba is unassailably campaigning in a way many pundits say is doing ground to prepare to take over from the father, come 2026.
Muhoozi's supporters who the old guard has tried to restrain to avoid "causing confusion" within the ruling National Resistance Movement assert that it is time for the old guard to give way to another generation. They note Muhoozi's activities and those of his supporters are causing division and schisms within the party support base.
Notable among Muhoozi's critics are Internal Affairs Minister, Maj Gen Kahinda Otafiire and NRM national mobilizer and former Wakiso woman MP, Rosemary Sseninde. Museveni will be making forty years in power in 2026, having taken over power in 1986 following a protracted five-year bush war.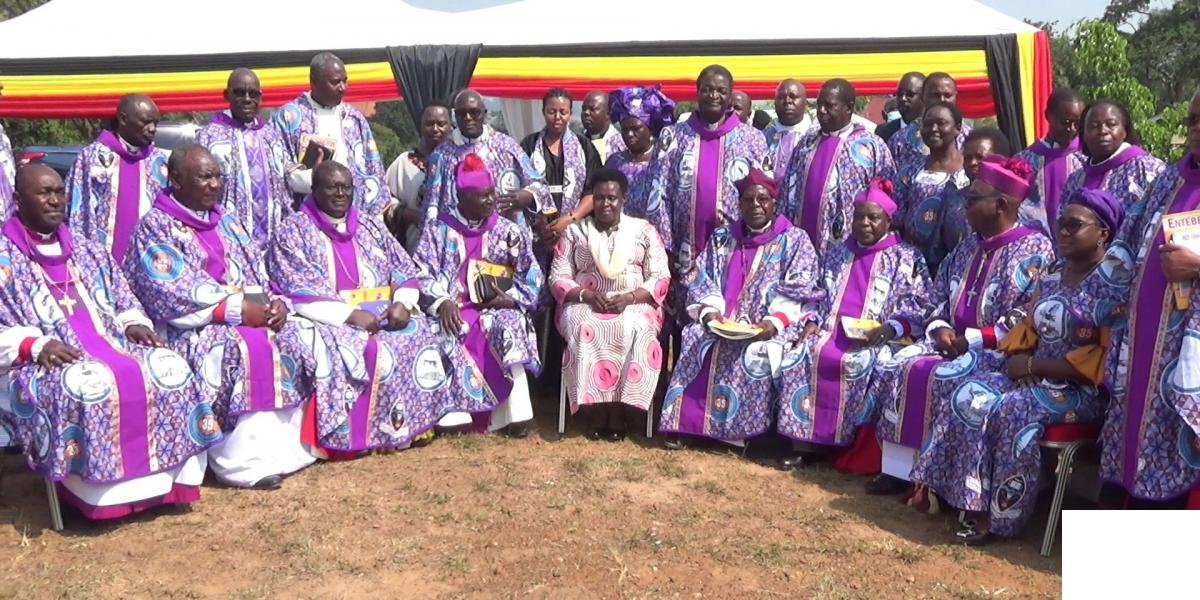 In his written message, Museveni commended the Church's supportive role in helping the population emancipate themselves out of poverty. Museveni said Christians should emulate Joseph, the father of Jesus in the bible to engage in income-generating activities in addition to seeking spiritual well-being.
Museveni said Joseph made his livelihood as a carpenter and did God's work. The President pledged 60 million Shillings towards the completion of the redesign and reconstruction of the Archdeaconry Church.
Before Alupo's speech Shyaka Steven Gashaija, the former Entebbe municipality NRM candidate enumerated the government's achievements in the area and outlined challenges including prevalent land grabbing, poor roads in some places, and rising crime.
Alupo said she was going to report these to the President and they should expect feedback from her soon. She unveiled a plaque to symbolize the kick of the technical works to change the look of the archdeaconry headquarters and also planted a tree in memory of the day.
The event was attended by seven local and international bishops including retired Namirembe diocese head, Bishop Balagadde Ssekkadde who represented his successor Bishop Kityo Luwalira to lead the service. Others included retired bishops George Ssennabulya (Mityana), Eria Paul Luzinda (Mukono), Jackson Matovu (West Buganda), and reigning bishop Samuel Egesa (Bukedi diocese).
Foreign Bishops included Samuel Azeofa from Nigeria and Felix Odei Annancy of Ghana who preached on occasion. Bishop Odei told Christians to audit whether they had done enough in helping Jesus Christ spread the gospel. "When you look at the population of Entebbe, can you say we have done enough in the thirty-five years?"
Canon John Ggita Kavuma, the Archdeacon of Entebbe explained that they need 1.1 billion Shillings to complete the facelift of the headquarter of the Archdeaconry to befit the status of the area. He also reminded the vice President of the President's pledge of a vehicle, adding that he always borrowed one to do ministry.
Entebbe Archdeaconry was curved out of Nateete Archdeaconry on January 4th, 1987. The Archdeaconry comprises nine parishes and about sixty churches in a territory running from Namasuba in Kampala all the way up to Kalangala Islands. The Parishes include Entebbe, Ssese, St John (near State House), Nkumba, Kitenda, Jjuungo, and Nankinga (Zana). Other archdeaconries with which Entebbe constitutes Namirembe Diocese include Luzira, Nateete, Gayaza, Mengo, Kazo, and Namirembe deanery.
The post Museveni is still around even after 2026 – VP Alupo assures Ugandans  appeared first on Watchdog Uganda.