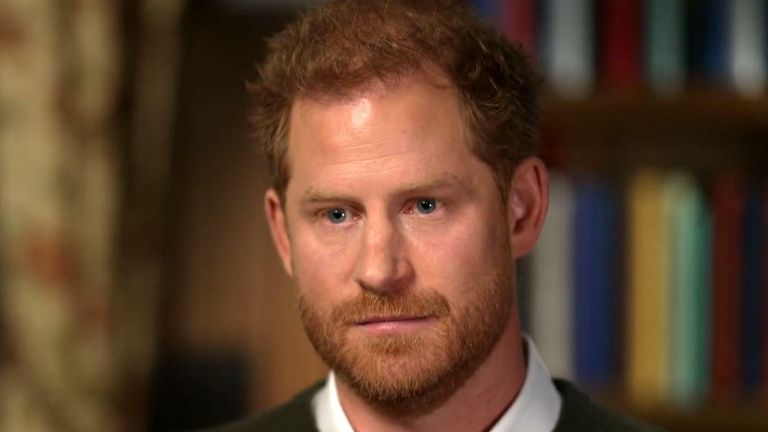 Prince Harry has said he saw a "red mist" in Prince William during an argument between them, claiming his brother "wanted me to hit him back, but I chose not to".
In a new trailer for ITV's forthcoming interview with the Duke of Sussex, he recounts an altercation with his brother.
"What was different here was the level of frustration, and I talk about the red mist that I had for so many years, and I saw this red mist in him," he says.
"He wanted me to hit him back, but I chose not to."
The duke describes the incident in his much-anticipated memoir, Spare.
It is due to be released next week but Sky News obtained a copy after it was accidentally put out for sale early in Spain.
In the book, Prince Harry makes several jaw-dropping allegations about the Royal Family, along with revelations about his own life, including his use of cocaine, how he was told about his mother's car accident and the moment he lost his virginity.
In the clip, the duke is asked about the drug use he describes in the book.
Interviewer Tom Bradby says: "There's a fair amount of drugs. Marijuana, magic mushrooms, cocaine. I mean, that's going to surprise people."
The duke says he believes it is "important to acknowledge".
Key revelations in Prince Harry's book
The duke admits to using cocaine – saying "it wasn't very fun"
He claims to have killed 25 people in Afghanistan during his two tours of duty
He says he asked his father not to marry Camilla – and his brother made the same request
He describes how King Charles told him Meghan should not go to Balmoral after the Queen's death
He recalled the moment he found out his mother, Princess Diana, had been in a car accident
He says he lost his virginity to an older woman in a field behind a busy pub
He accuses Prince William of knocking him over during an argument about the Duchess of Sussex
Read more:
Harry's memoir – here's what you need to know
How did William and Harry's relationship break down?
'My dear son, mum has had a car accident'
He also repeats his desire to reconcile with his brother and father, the King.
"I want reconciliation. But, first, there needs to be some accountability," he says.
"The truth, supposedly, at the moment, has been there's only one side of the story, right?
"But, there's two sides to every story."
'I was probably bigoted before the relationship with Meghan'
In a clip released by CBS ahead of the 60 Minutes interview in the US, also being released on Sunday, Prince Harry says he was bigoted before his relationship with Meghan, targeting the press for the treatment of his wife.
He says: "Put it this way, I didn't see what I now see.
"What Meghan had to go through was similar in some part to what [Princess] Kate and what Camilla, [Queen Consort,] went through – very different circumstances.
"But then you add in the race element, which was what the press– British press jumped on straight away. I went into this incredibly naïve. I had no idea the British press were so bigoted. Hell, I was probably bigoted before the relationship with Meghan."
Prince Harry says: 'I was probably bigoted before the relationship with Meghan'
In another section of the duke's memoir, he describes being in Paris at the age of 23 and asking a driver to take him through the Pont de l'Alma tunnel at the same speed as the car carrying his mother, Princess Diana, when it crashed in August 1997.
"I told myself I was only doing it to close that chapter, but it was not true," the duke says.
Adding that the drive was a "terrible idea", he says there is "no reason anyone should ever die inside the tunnel".
"Deep down, what I was hoping to feel in that tunnel was what I had felt when JLP [a former palace press secretary] had given me the police reports; mistrust. Doubt. However, that was the night all doubts were dispelled. She's dead, I thought. My God, she's really gone forever."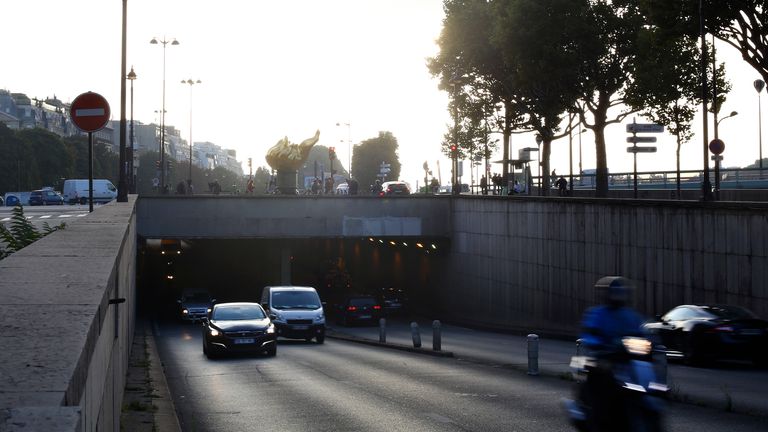 He says the next day, he called his brother to tell him what had happened, and the pair decided to drive through it together before heading to the rugby final.
It was after this that they spoke about their mother's accident for the first time, Prince Harry claims, adding that they discussed issuing a statement and calling for the investigation into her death to be reopened.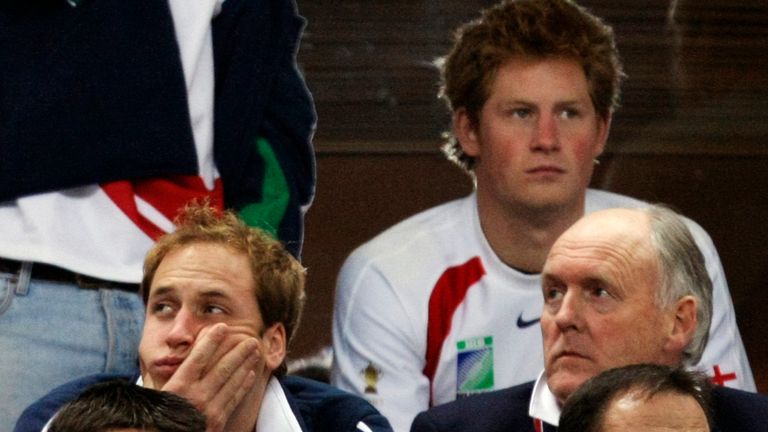 'Why had those paparazzi got off lightly?'
The inquest into Diana's death heard that her car was travelling at between 60mph and 65mph – around twice the 31mph (50kph) limit for the road – when it struck the 13th pillar of the westbound carriageway in the underpass.
"The final report was an insult. A load of nonsense plagued with factual errors, where logic was conspicuous by its absence," the prince wrote.
"Especially the summary conclusion, that our mother's driver was drunk and, as a result, that was the only cause of the accident."
The impact of Prince Harry's memoir
He continues: "Even if the man had been drinking, even if he had been drunk, he wouldn't have had any problem driving through such a short tunnel. Unless paparazzi were following him and dazzled him. Why had those paparazzi got off lightly?"
Prince Harry added that both he and Prince William agreed that they would call for a number of questions to be answered but "those who decided dissuaded" them from taking any action.
Sky News has approached Buckingham Palace and Kensington Palace and both will not be commenting on the allegations.
'I want a family, not an institution'
In an earlier teaser clip of the ITV interview, Prince Harry refuses to confirm whether he will attend his father's coronation in May.
He is heard saying that he wants "a family, not an institution".
Click to subscribe to the Sky News Daily wherever you get your podcasts
Making more extraordinary claims, he said: "They feel as though it is better to keep us somehow as the villains.
"I would like to have my father back. I would like to have my brother back."
Checkout latest world news below links :
World News || Latest News || U.S. News
The post 'He wanted me to hit him back': Prince Harry claims he saw 'red mist' in Prince William appeared first on WorldNewsEra.