Paul Merson has urged Chelsea to give Graham Potter more time but feels the substitution of Pierre-Emerick Aubameyang following his early introduction against Manchester City shows the striker's days at the club are numbered.
Potter's position is under intense scrutiny after fans vented their frustrations in the wake of Sunday's 4-0 thrashing by Manchester City in the FA Cup, just three days after they suffered a fourth Premier League defeat in six games to the same opponent.
In his latest column for Sky Sports, Merson explains why Potter, who succeeded Thomas Tuchel in September, needs more time to turn the club's fortunes around – but says the sub-subbing of Aubameyang at Stamford Bridge last week marks a point of no return for the former Arsenal striker.
After some Chelsea fans could be heard venting their frustration towards Graham Potter by singing Thomas Tuchel chants at the Etihad Stadium, Pep Guardiola insisted Todd Boehly should give the Chelsea head coach time
'He's not become a bad manager overnight'
I think Potter has been bang unlucky, if I'm being honest.
The way they play, with three at the back, the most important thing is to have two good wing-backs, but Reece James and Ben Chilwell are injured and they have also been caught with no centre-forward.
I hope he gets time because I don't believe he has become a bad manager overnight.
It's a hard one because he's had so many injuries, but the problem when you're in trouble is that every game is followed by a hard game.
You are crying out for a Forest at home – no disrespect to Forest – but they just do not come along. Instead, you get Man City twice.
I think he has been unfortunate with both injuries and the fixtures. To bump into Man City twice when you are under pressure and you have not got a full team, you are always going to be up against it.
He is putting youngsters in and some of them have done well, but it's a hard situation.
There's a lot of work to be done on the squad, particularly in attack.
Clinton Morrison says the pressure is building on Chelsea head coach Graham Potter because of the high expectations at the club
They have spent a lot of money on defenders, but you are only going to win something if you can score a goal.
I rack my brain for who is out there. There's only one striker I can think of and that's Harry Kane, but I don't think he would want to go to Chelsea and I don't think Tottenham would sell him to Chelsea.
But you go around the world and there is not an obvious centre-forward for them anywhere. That's a big problem.
I worry for Potter that the fans are singing Thomas Tuchel's name because, at the end of the day, it's the fans who sack you.
The last manager I can think of who has been sacked when the fans were singing his name behind the goal was Alan Pardew years ago when he was at Southampton.
They had just beaten Bristol Rovers 4-0 but he got sacked the next day. That never happens now. The fans have much more sway and there's no doubt a lot of Chelsea fans are turning against Potter.
'I think Aubameyang is done'
Pierre-Emerick Aubameyang was taken off after coming on as a substitute in the first game against Man City and I think he will now be moved on. I think they will cut their ties with him.
As soon as you are sub-subbing a 30-something player, I think that is probably the end.
Maybe you can get away with it with a younger player, but in football it's one of those unwritten rules. It's a don't-do.
But Potter did it with him at 33 and, for me, I think he's done.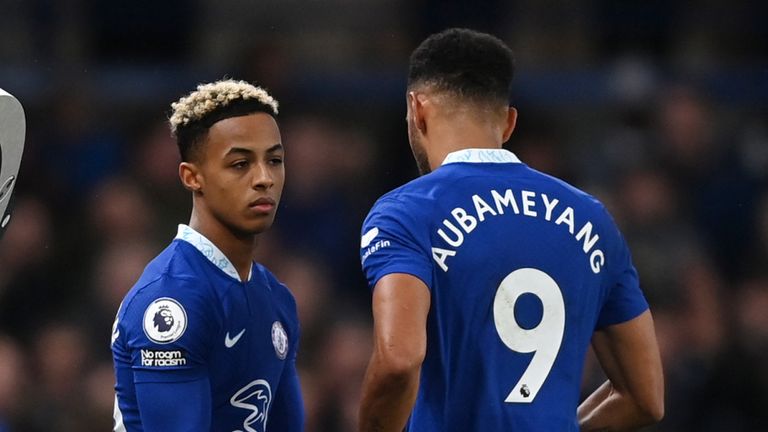 It's an example of why recruitment is such a big problem for Chelsea.
They have brought a couple of players in already and it looks like they are going to have a go in the transfer window. They have to. The top four looks very far away right now but there's a long way to go.
But if you do that January business and, all of a sudden, Potter goes a week or two later, then another manager will come in and say, 'Well, I don't like him, I didn't want him.'
That's what's happened with Aubameyang. Potter did not want him, but if he is now sacked and someone else comes in, they will go, 'Well, I don't want that centre-half or that centre-half.'
Then it's like you are going around in circles again.
That's why Potter has got to be given more time in my opinion.
Checkout latest world news below links :
World News || Latest News || U.S. News
The post Graham Potter needs time at Chelsea but Pierre-Emerick Aubameyang looks finished there, says Paul Merson appeared first on WorldNewsEra.