This grain-free Cherry Banana Bread is a bit more dense than the banana bread recipes you might have grown up with, owing to the use of coconut flour for AIP-friendliness and gelatin instead of eggs. But it packs tons of fruity flavor from both banana and bursts of dried cherry (or blueberry, cranberry, or raisin if you prefer). It sounds weird, but the recipe really does work better if you freeze your bananas and then let them thaw first. I know it's tempting to just use fresh bananas to cut to the chase. Something happens to the texture of thawed frozen bananas that helps bind the whole thing together a bit better, and without eggs or gluten, we need all the binding help we can get. Give it a try and this might just become a breakfast favorite!

Struggling with thyroid disease?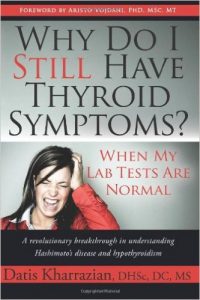 Why Do I Still Have Thyroid Symptoms? by functional medicine practitioner Datis Kharrazian is single-handedly responsible for my improved health over the past few years. It introduced me to the connection between autoimmune disease and lifestyle factors like diet at a time when my doctors were telling me there was nothing wrong with my thyroid even though I had high antibodies. This book gave me the information I needed to get the right tests ordered and seek proper treatment. It's a must-have guide for anyone who has already been diagnosed with thyroid disease, who is at risk due to family history, or who strongly suspects they may have it but isn't sure where to start. I can't recommend it enough!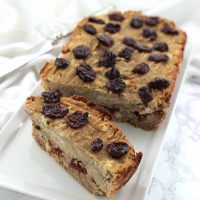 Cherry Banana Bread
This grain-free, egg-free, and dairy-free Cherry Banana Bread is a bit dense, but packs tons of fruity flavor from both banana and bursts of dried cherry.
Instructions
Preheat the oven to 350 degrees F and grease a loaf pan with coconut oil.

In a food processor, puree the bananas and gelatin until smooth.

Add the flour, syrup, oil, vanilla, and salt and blend until combined into a smooth batter. Let rest for 10 minutes.

Add the baking soda and puree just until mixed in. Pour the batter into the loaf pan, then gently fold in the dried cherries.

Bake 30 minutes or until the top is lightly browned and a toothpick inserted into the center comes out clean. Let cool 1 hour to allow to set fully.
The post Cherry Banana Bread appeared first on A Clean Plate.