Initially, web development was only for hardcore programmers. They were expensive and learning how to code was not an easy task.
Now, if you don't have the budget for hiring web design services for your startup or you are not a skilled programmer but want to design your website for your own venture, various tools come in handy.
It brings us to the question; which tools are best for web designing? Let's find them out.
WordPress
WordPress is the source of almost more than 43% of websites around the world. This special platform comes at the top because of its quality. It offers a high level of customization, so you can develop virtually any kind of website with it.
On top of it, the plugins make it even easier to add any functionalities and make your website perfect for your brand.
It is an open-source tool that provides a top-notch CMS and SEO functionality.
Page Builders
There are many different kinds of page builders available. The plus point is that you don't have to be a coder to develop a page on these platforms. Usually, they are drag and drop.
Page builders help you maximize the user experience and ensure you don't have to rely on developers for a simple change.
Besides this, these page builders are more helpful in creating landing pages. If you have to develop an urgent market campaign and need a landing page for it, page builders are your top choice to go.
Some of these page builders include Squarespace, Divi, and Elementor.
Elementor
Elementor is a WordPress page builder that you can install as a plugin.
The Elementor team emphasizes that their tool makes it simple to design your page and generates clean code on the back end. All of this ensures high performance and ease of use.
Elementor comes with a huge variety of templates that you can use to design your website or pages of your website even faster.
Also, Elementor has a nice feature that allows you to develop forms within the page builder and quickly integrate them with your marketing automation platforms to produce more leads for your business.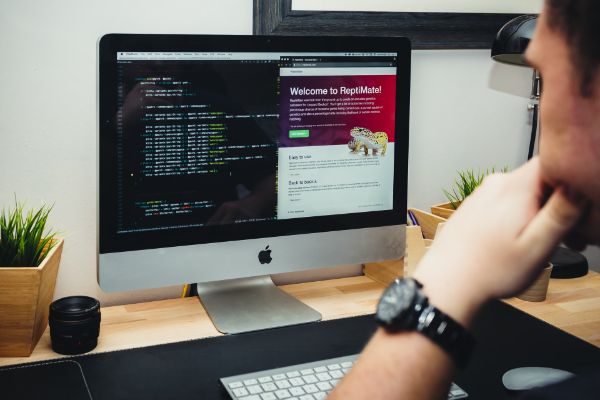 Divi
Divi is one of the platforms that you might have heard of already, it is a WordPress theme, but also, a WordPress page builder.
Divi's offers a wide variety of templates, for restaurants, cafés, medical, fitness, and other businesses. Also, users can easily create custom templates as they like.
Since it is a page builder, it comes included with a visual editor so you can edit your layouts in real-time. No preview button is required.
You can undo the changes or redo them anytime, just with a simple click. Divi Builder includes several global features, styling options, and content blocks to make building a website a breeze.
Apart from that, the huge community that supports Divi can help you to learn more about it or help you with any issues that you could have.
Canva
Canva is a popular and easy-to-use design tool that allows you to create graphics using pre-designed, optimized templates quickly.
These editable templates let you experiment with images and colors to create visualizations, social media graphics, presentations, and posters quickly and easily.
The tool has a simple drag-and-drop interface and a premium collection of graphical content that make the procedure even easier.
Canva has mobile apps for iOS and Android, allowing you to make changes to your designs while on the go.
Canva also allows you to schedule your designs for distribution across other internet platforms. This allows you to improve the efficiency of your website and social media workflows.
One thing to keep in mind is that, unlike Photoshop, Canva cannot be used offline.
MockFlow
Mockflow is the suite for UX. If you want to create a website and need to plan the wireframes, it gives you the tools to create prototypes easily.
Create your first design and keep modifying it until you have it perfect. You can also use the UI revision tracker to keep a record of all the changes so far.
Moreover, the preview feature allows you to show progress to the clients and team members.
Then to customize the design as per your needs, you can go through the thousands of pre-built layouts and other elements.
Once you have completed the designs, the rest of the suits offer the features like architecture information and style guide creation and manage the sign-off process.
Niice
Web designers do not just need page builders or UX tools, but they also need more and more images. It is kind of the hub for designers.
They can get amazing inspiration for web designs from Niice. Developers have it easy to build and manage their creative projects.
You can get it there, from designing the images to responsive web designs.
Coolors
Coolors is the best color generator around. Basically, it helps you to create custom color palettes in no time.
Colors aren't only a tool for creating color palettes; it also lets you see what other people have done with theirs so you can get ideas. Hundreds (if not thousands) of palettes are available in the Explore section for you to view, save, and change.
Coolors is a desktop computer application. It also comes with an iOS app, an Adobe add-on (Photoshop, Illustrator, and InDesign), and a Google Chrome Extension for simple access.
The Bottom Line: Should You Hire a Developer or Design Your Website?
Indeed, as a startup, you may not need a lot of functionality on your website in the beginning.
But as you start scaling the business, you need to add more functions and features so you can give your users a better experience, and features, and ultimately, improve your sales.
However, if your budget is enough to pay a web developer, it is always an excellent choice to go for a professional. Experienced developers can have magical skills that you might not be able to pull off simply through these tools.`
The post Best Tools for Designing a Website for Your Startup appeared first on Place Of Inspiration.