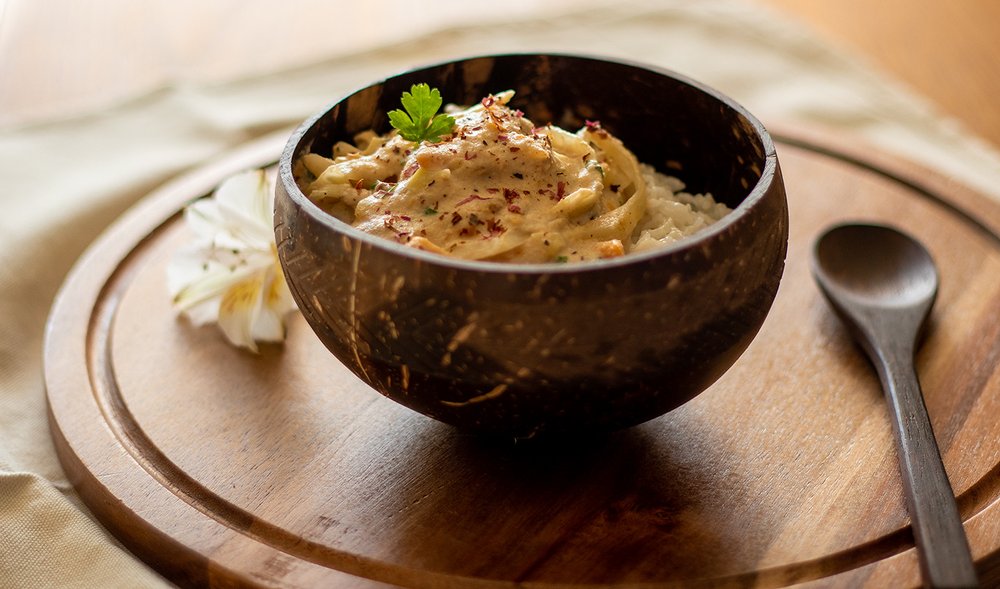 Any meal can be prepared following a 60:40 ratio of augmenting and extractive foods. This is an example of a creamy curry dish, with vegetables and a light curry cream of cashews and coconut. Served with rice, it's a light, fresh, and nourishing dish for any season. 
Make sure that you soak your cashews prior to making the sauce. For 1/2 cup of cashews 2-3 hours is sufficient. This will ensure a smooth creamy texture when blended with the coconut and water. Top your bowl with fresh cilantro and enjoy.
Augmenting & Extractive
SERVES: 2-3 people
PREPARATION TIME: 30 minutes
You'll need:
½ cup cashews (soak for 2-3 hours, drained and rinsed)
½ cup raw coconut flakes (unsweetened)

2 tsp arame or another seaweed vegetable

1 tbsp coconut oil

1 tsp chopped fresh rosemary (or ⅓ tsp dried)

4 dried curry leaves

2 tbsp ground coriander seeds

2 small pinches mustard seeds, optional

1 tsp grated fresh ginger 

¼  tsp lightly ground fenugreek seeds

¼ tsp cinnamon

½ tsp mineral salt

1 carrot, thinly sliced into ribbons

1 zucchini, thinly sliced into ribbons

1 cup shredded chinese or napa cabbage 

large handful fresh cilantro, chopped

⅓ cup fresh rose petals or 1 tsp dried

2 lime wedges
Here's how:
2-3 hours in advance soak the cashews, drain and rinse and blend till creamy either in a food processor or blender. Set aside.

In a large pan, heat the coconut oil and add the salt, rosemary, curry leaves, ginger, as well as coriander, mustard and fenugreek seeds. 

Sauté until the aroma is present.

Stir in the cinnamon, cashew cream, coconut and seaweed and ½ cup water, followed by the carrots.

Simmer on low-medium heat for a few minutes.

Add the zucchini. Continue to simmer for another minute.

Stir in the cabbage and saute for a few minutes until the cabbage is clear.

Turn off the burner and leave on the heat. 

Let the curry stand for 5 minutes.

Fold in the rose petals and garnish with cilantro and squeeze of lime. 

Serve with high quality white rice.
Tips & substitutions:
To give it a slight yellow color add ¼ tsp turmeric with the other powders.